The domestic sector especially wooden furniture manufacturing took a hit during the pandemic and household expendable income decreased with everything being uncertain for the future. However, over time as vaccines were released and the population started getting vaccinated, economic activity resumed and the demand in the market shot up to pre-pandemic levels. And this presents an opportunity for an entrepreneurship venture. What matters in this business and all those successful wooden furniture manufacturers would tell you that intuition for the market and a sense of dedication and commitment are the most important factors that can drive you.
There are a lot of wooden furniture manufacturers in the market and significant trade dominates the business but before that, you need to be an established player in the segment. To become that you need a solid business which takes into account both micro and macroeconomic factors.
Let's Get Into How You Can Formulate A Business Plan: -

1. Know Your Furniture
With so many options available in the market, one first needs to get an idea of the kinds of products in the market and what will be your target audience. If you search for wooden furniture online, you will get what I am talking about. Understanding your target group will help you refine your choices and understand the price at which your consumers would be interested to buy a product.
A comparative study that considers your rivals, the cost of your products, and the qualities that will make your furniture stand out in the market are essential. To get to know your rivals, you can search on Google using "wooden furniture shop near me". Customization is another factor; determine if you'll permit it for your line of products. However, do remember, that customization means added costs.
Now you should also start planning your business name and logo. They are extremely important being the first point of reference for your consumers.
2. Think About Your Product Design
What makes furniture fit into someone's room is the way they are designed and modified. A well-planned piece of furniture is a joy for the buyer as well as the seller. There are a lot of wooden furniture manufacturers in the market now and you can always look towards them especially in the antique wooden furniture segment for inspiration but it is also important to have your own identity. Indian craftsmanship is known far and wide throughout the world and people look forward to getting immaculate and exquisite design from the land. The different types of wooden furniture design that one should know about are:
Traditional – Belongs to the Queens period and is artistic, graceful and formal
Art Deco – Characterised by angular shapes and geometric shapes
Shabby – Casual look with a feminine feel
Modern – Offers sleek interiors in varying styles
Contemporary – Most commonly used furniture
Retro – Inspired by the recent past
Rustic – Homely appearance
Patenting the designs is another element of running a successful firm. The majority of us initially don't consider patenting our inventions. The reality is that throughout the course of previous centuries that has gone by, thousands of designs were produced and curated to match the needs of the customers, and there is a 90% likelihood that the majority of designs will resemble previous designs or some of their features.
Adding a twist and earning market acceptance won't prevent someone from copying your concept. The shape, process, and actual design will all be protected by a patent. Given the difficulty of obtaining a patent, it is essential to vigorously promote your product to notify consumers about the original inventor by creating a strong brand identity.
Read More: List of Top 10 Best Furniture Manufacturers, Suppliers & Exporters In India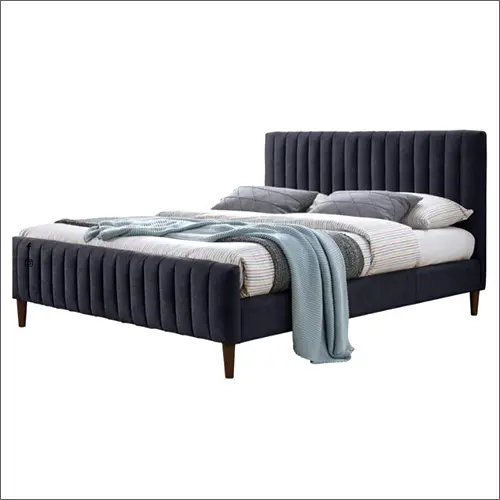 Durable Wooden Beds
VIEW PRODUCT DETAILS
3. Source Raw Materials
Wood is the most adaptable, sustainable, and renewable resource and also no brainer when it comes to wooden furniture. It is sturdy and long-lasting, and often, one large piece of wood may be used to make one piece of furniture. Each type of wood has unique qualities that lend a particular level of warmth and beauty to the atmosphere. It may be built to fit any form or size and is machinable. Hard and softwood are the two traditional categories used to describe it.
In hardwood, there are trees such as cherry, lime, maple, chestnut, rosewood, walnut, teak and Mahogany. For softwood, there are trees such as fir, cedar, pine, hemlock, redwood and spruce. The modern-day classification that is used nowadays is solid wood, manufactured wood and particle board. Other essential materials needed by wooden furniture manufacturers are steel, plastic and glass.
4. Choosing a Location
Your location should be ideally located between your suppliers and your buyers. Suppliers should find it easy to deliver the raw materials to you and on the other hand, customers should also be able to reach out to you.  Keep in mind all the aforementioned points and choose an effective, usable place rather than one with cheaper rent. The following are some crucial considerations:
Keep adding new products to your portfolio
Keep individual attention to clients initially
Use billboards for catching the eye of the public
Provide industry-leading customer service
5. Design Your Manufacturing Process
If you are new and starting, you will need to invest heavily into capital expenditure if you want to be a wooden furniture manufacturer. There is specialised machinery for sawmilling, hewing and based on the type of products you manufacture, their exact specification can vary. There is a specialised process that may be needed for kiln drying, planning and drilling, sandling, splitting and cutting. To finish the products, set up an assembling and finishing section.
6. Get The Required Manpower
As you already know by now, the equipment that you will be using will use a specialised and trained labour force. Therefore, you need to ensure that your HR department is capable of hiring people who are suited for the position. If you are producing antique wooden furniture, then you have to further have specialised manpower. Also, training and workshops can be organised from time whenever there is a process change in the factory or there is a piece of equipment up for up-gradation.
It is also important to design good promotion plans and salary structures based on what your competitors are making. To have the right people in the fold is extremely important. It is as important as the business plan you created.
Also Read: Top 10 Handicraft Making Companies in India - 2023
7. Quality Checks and Production
As a lot of intricate processes are part of the process, it is important to have a quality check in place. The level of equipment that is used for the process is very specialised and may be subject to variations, wear and tear. Once the quality check is in place, start production and take an account of the defunct final products that are reduced. Understanding this will help you lay down your costs and margin and also they can be used to improve production by inculcating automation into the process to reduce the labour costs. As time goes on, you will be able to achieve economies of scale where your margins will be the highest.
8. Distribution
You also need to lay down your supply chain to reach out to your various stakeholders. Also, you need to decide on the channels where you want to sell your product. Various furniture suppliers already have a very elaborate supply chain laid out all over the country and there are many shops which sell wooden furniture online. Therefore, you should better decide your strategy in distribution by considering options such as in-house supply chain or sourcing a third party logistics.
Conclusion
After you have laid down your plan mentioning the deliverables and the goals of each product, you now have to work on execution and this is the part where most fail. Therefore, focus on your proposal, select the right people, invest in capital expenditure and keep on innovating to stay relevant in the market. With the opportunities that the segment has to offer, it is not very hard to establish your brand in the place and achieve success. Invest heavily in the initial stages based on the direction that you have planned for your business and reap the benefits at a later stage.
FAQs: Wooden Furniture

Q. What is likely to be the profit margin operating in the wooden furniture manufacturing business?
Ans: Once all the initial expenses are met and you are invested in capital expenditure, you can expect up to a 30-40% profit margin in the segment. In order to maintain and increase the margins, you have to keep investing in R&D and expand your product line using automation.
Q. What are the different licenses that you would require to operate in the wooden furniture?
Ans: If you set up your plant in India, you would be requiring the MSME registration, GST registration, NOC by state board and Trade license.
Q. What is the initial investment that I would be required in the manufacturing of wooden furniture business?
Ans: The initial investment that one would require to get the business off and running is around 15-20 lakhs.
Explore More: