Handicrafts
What is a Handicraft?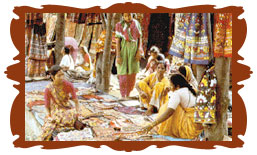 A handicraft is a product, which is made with the use of hands. It is a work of active imagination, where a craftsman gives vent to his/her thoughts thereby conceiving a unique product. India is a country of diverse traditions, where there is an amalgamation of a number of cultures, values and religions. Our rich heritage is reflected in the handicrafts, which form an intrinsic part of almost all states. States differ in the kinds of handicrafts that they offer, depending on the cultures and traditions of the majority of locals. Bookbinding, sewing, stitching, spinning, weaving, knitting, crocheting, lace making, tatting, puppet making, wall hangings, needlecraft, needlework, art and crafts all fall under the categories of handicrafts.
Indian Handicrafts are an exquisite and spell binding variety. They come in vibrant colors, motifs and designs and thus are a rage in the domestic and international markets alike. The techniques and crafts employed while making these handicrafts are centuries old and have been perfected by the craftsmen over many years. Making handicrafts is a family tradition and the skill is generally passed on from one generation to another.
Handicraft Products
Decorative Items:

Handicrafts are popularly used as home decor items. Indian handicraft items are a rage in the country as well as in the international markets, because of their vibrant colors and beautiful and enchanting motives. India is the home of a remarkable variety of traditional crafts. Century old skills continue to produce some of the most artistic and exciting pieces of art, which are admired and collected not only by connoisseurs in India but also around the world. All items are irresistible, be it, leather ware, pottery, metal craft or textiles


Furniture:

A variety of hand crafted furniture is available in the market, including, furniture sofa sets, dining tables and chairs, garden chairs, shelves, book-stands... the list is endless. Many varieties of materials like wood, bamboo, metal, cane, etc. are used for making these furniture. The carvings on them makes them a must have for everyone. They make a simple room look ornate and beautiful

Jewellery: Artisans from different states use different materials and design to churn out some exquisite pieces of jewellery. Tribal jewellery is also included in handicrafts. Iron, brass, shells, beads, other metals, wood, etc. are used in innovative ways to be used as jewellery


Garments:

Indian textiles are famous not only in the country, but also all over the world. India is home to the most rich cotton and silk fabrics. Most of the fine yarn are woven in India. Abundant varieties and styles of sarees, the most common Indian dress, exist in the market, with each state contributing something or the other. Indian embroidery has a variety of regional styles like the chikan work, mirror work, phulkari darn work, bead work, jali work and many more to suit all styles and tastes


Wall Hangings:

A large variety of wall hangings are available in the market, with extremely intricate motifs. There is an incredible range to choose from. They are made in various materials including, jute, coir, cloth, with an even larger variety of works like, thread work, embroidery, patch work, etc. The themes and designs vary from state to state. Pictures of flowers, fruits, gods and goddesses often adorn these wall hangings


Marble Handicrafts:

Marble is an expensive stone which is used for making various home decor items. Craftsmen require immense expertise and precision to carve on this stone. Various items like elephants, Taj Mahal, Table tops, jewellery boxes, images of gods and goddesses, vases, goblets, candle stands, etc., are the most common items carved out by the craftsmen


Paintings:

Painting is an age old tradition. Only a skilled pair of hands can beautifully depict a scene from mythological books, or an important world happening or just a moment from mundane everyday life, or something of scenic beauty. A variety of paintings are available in the market, with each one being better than the other


Metal Handicrafts:

A wide range of metal handicrafts are available in a broad variety of metals including brass, copper, iron, aluminium, etc. Sculptures, animal figures, vases, candle stands are common items made from metals
Other Products Related to Handicrafts
Brass Candle Holders

Metal Wall Hangings

Copper Handicrafts

Wooden Handicrafts

Costume Jewellery

Wooden Boxes

Wooden Carved Column

Decorative Wooden Boxes

Handcrafted Wooden Seaters

Decorative Flower Vases

Hard Wood Cd Racks

Antique Statues & Replicas

Candle Stands

Clay Crafts


Elephant Carvings

Hand Knitted Clothes

Aluminium Vases

Zari Cushion Covers

Brass Handicrafts

Copper Handicrafts

Aluminum Handicrafts

Iron Handicrafts

Horn Handicrafts

Bone Handicrafts

Stone Handicrafts

Wooden Handicrafts

Marble Handicrafts

Glass Handicrafts

Beads Handicrafts

Handicraft Decorative Accessories

Handicraft Dress Materials

Handicrafts Lac Necklaces

Bags

Cases

Bangles Imitation Jewellery

Puppets

Silk Painting

Miniature Painting

Cotton Painting

Marble Painting

Gem Stone Painting

Paper Painting

Cushion Covers

Mats

Quilts

Bed Sheets

Bandhejes

Indian Sarees

Pashmina Shawls.
Handicrafts from Some States
Rajasthan:

Colors form the essence at Rajasthan. The state attracts a large number of tourists from world over because of its enchanting and enduring handicrafts. Puppets, carved wood items are among the favorites


Andhra Pradesh:

It is one of the major craft centers in southern India, with various crafts, including exquisite stones, silk, pearl jewellery and many more

Assam: The state is a pioneer in silk craft and is one of the largest craft centers in the north east region


Bihar:

The state is famous for its carpet development activities


Delhi:

During the Mughal period, the state was well known for kundan work and meenakari. Delhi is the only state in which the art of meenakari is still alive. The craftsmen here also make items of wood like, trays, tables, boxes using inlay work.
The Handicraft Market Today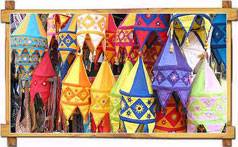 Handicrafts are, as said earlier, made using hands...a skilled pair of hands. This skill is not new; it has been passed on from one generation to another. In today's age and time, everything is produced/manufactured using machines. Handicrafts are a refreshing change, as no two items can be the same. They are one of their kind and no two people can have the same piece, there are bound to be differences. This makes them exclusive and give them a designer status. Our government is playing an active role in promoting craftsmen from various states to continue with their family traditions. Almost all states have emporiums, where these craftsmen can exhibit their art, and display it to a vast audience, both local and international. The market for handicrafts is thus a booming one, which promises of being lucrative.