Comprehensive directory of trade shows, trade fairs, events & exhibitions
---
Indo Defence 2018

| | | | | |
| --- | --- | --- | --- | --- |
| Show Start Date : 07 November 2018 | | Show End Date : 10 November 2018 | Frequency : Biennial | Open To : Trade Visitors And General Public |

| | | | | | |
| --- | --- | --- | --- | --- | --- |
| Venue Information : | Jakarta International Expo (JIExpo) | City : | Jakarta | Country : | Indonesia |
Event Profile
Indo Defence 2018 is Indonesia's Tri-Service Defense Event. Indo Defence 2016 to be held on 07-10 Nov 2018 at Jakarta International Expo (JIExpo), Jakarta, Indonesia. Hosted by Ministry of Defence, INDO DEFENCE 2016 Expo & Forum is recognized by the industry as the indispensable place to be, to learn, to network and to do business. You are invited to join over 20,000 delegates and trade visitors to the Indonesia's No.1 International Defence Industry event of the year.
---
Exhibitor Product profile
Airborn Development Systems, Flight Navigation SystemsHelicopter Systems, RPV, Drone Systems, Ammunitions, Anti-Tank Weapons, Communication, Security Systems and Equipments, Counter Measures, Data Handling, Data Links, Electronic Equipment, Electronic Security Systems, Electronic Warfare, Radio Equipment, Risk Analysis and Control, Training Schools, Air Traffic Control Equipment, Airfield Equipment, Ambulances, Anti-Aircraft vehicles, Armoured Vehicles, Bridging Vehicles, Logistic/ Cargo Vehicles, Coastguard/ Customs/ Police, Mission Support Ship, Ships/ Landing Crafts, Submarine, Submersible Systems & Equipment.
---
Visitor Profile
Visitors like Senior Government Officials, Ministries & Departments of Defence, Armed Forces Personnel, Senior Management of Defence-related Organisations, Defence Procurement Experts, Sales & Marketing Personnel, Engineers, Research & Development Specialists, Law Enforcement Agencies, Consultants, Journalists.
---
ORGANISER(S)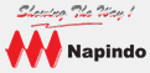 PT Napindo Media Ashatama
Address :-Jl. Kelapa Sawit XIV Blok M1 No. 10 Kompleks Billy & Moon, Pondok Kelapa Jakarta – 13450 (Indonesia)
Phone : 62-21-8644756/8644756/8644785
Upcoming Trade Shows In Security & Protection Category
Euro Expo Troms 2018
Date :
24 October 2018 - 25 October 2018
Venue :
TBA, Troms, Norway
Description :

Euro Expo Troms 2018 is one the most popular industrial fair. Euro Expo Troms 2018 to be held on 24-25 Oct 2018 in Troms, Norway. To accomplish this, we are building the regional Industry Trade Shows close to your clientele. The visiting companies just need to put a few hours to be able to meet you at EURO EXPO's Industrial Fair. The fair offers visitors a superb opportunity to find out more about the status of technology in this dynamic industry and to directly establish contacts with potential partners.

View Details

Achema Frankfurt 2018
Date :
11 June 2018 - 15 June 2018
Venue :
Messe Frankfurt, Frankfurt, Germany
Description :

Achema Frankfurt 2018 is an International Exhibition-Congress on Chemical Engineering, Environmental Protection and Biotechnology. Achema Frankfurt 2018 to be held on 11-15 Jun 2018. The extensive lecture programme provides information on new technological developments and trends. Developers and providers as well as users and plant carriers will have opportunities to discuss focal themes and exchange ideas both during the exhibition and the events.

View Details

Fensterbau Frontale 2020
Date :
18 March 2020 - 21 March 2020
Venue :
Messezentrum Nuremberg, Nuremberg, Germany
Description :

Fensterbau Frontale 2020 is an International Trade Fair Window, Door and Facade Technologies, Components, Prefabricated Units. The show will be held on 18-21 March 2020 in Nuremberg, Germany. The wish for more sustainability and comfort continues to drive innovation in the window, door and facade construction sector. Architects, tradesmen, manufacturers and the trade meet at fensterbau/frontale to discuss how aesthetics and design trends can be reconciled with energy-efficient building. One main focus is on solutions for the automation of windows and facades.

View Details

Deseret News Home Show 2018
Date :
12 October 2018 - 14 October 2018
Venue :
South Towne Exposition Center, Sandy, United States
Description :

Deseret News Home Show 2018 is a show for home or interiors lovers. Deseret News Home Show is going to be held on 12-14 Oct 2018 at South Town Exposition Centre Sandy, Utah, United States of America. Exhibiting in the show is a very cost-effective investment and you have the best opportunity to sell face-to-face to tens of thousands of homeowners. And 57% of all homeowners believe that face-to-face is the most important source of home improvement information. Our shows are priced according to the value they provide and we are confident in our pricing system and more importantly, in the return you will receive on your investment.

View Details

ADAS 2018 - Asian Defence, Security & Crisis Management Exhibition & Conference
Date :
26 September 2018 - 28 September 2018
Venue :
World Trade Centre, Manila, Philippines
Description :

3rd ADAS will be held from 26-28 Sept 2018 in Manila, Philippines. The ADAS Series will continue to have the full support of the Philippine DND and other relevant Agencies. The ADAS Series will continue to enjoy the full support of the Philippine DND and other relevant Agencies has become in its short history, an important International Event to showcase defence and security products in a fast expanding market.

View Details

View More Security & Protection Trade Shows



Disclaimer :

The information furnished has been collected from varied sources, and hence, is subject to change. To confirm the show schedule kindly contact the show organiser.







Trade Shows where Tradeindia participated




Organisers of Trade Shows

» Subscribe Newsletter

| | |
| --- | --- |
| | Subscribe to newsletter and get updated with upcoming trade shows, trade fairs, exhibitions and trade events worldwide. |