You will be transferred to next page, where you can enter any name of the "alert group" as per your choice. It is recommended to enter the group name which will identify all your alerts in that category. After entering the name, click "ADD" and the group will be created. You can create more groups in the similar manner.

For example, lets say that you need to manage 2 licenses, manufacturing license and factory license. Then, enter the group name as "Licenses". Same way you make other groups like "Payments", "Tax", "Insurance", "Certification Renewal" etc.

Once the group is created, you will be prompted to create an alert for it.

2) Creation of one or more Alert(s) / Reminder(s)
Select the option to create an alert and you will be taken to the "
Add / Create Alert
" Page. Here, you can add a new alert or set additional alerts for other tasks.
This page will look like:
Description
Add the description that best defines your reminder / alert
For example, Factory License 2012
Group
If you have created more than one group, then you can select the specific group under which you want the alert to appear.
For example, you have created "Licenses" and "Payment" groups. Then, depending on the alert type you place the alert in the appropriate category.
Priority
You can set the priority of the alert as per your convenience
Advance Period
Here you can select the time period before which you will be alerted to accomplish the task. The options available are 1 Week, 2 Week, 3 Week, 1 Month, 2 Month And 3 Month.
Status
Status is described in details, below at the bottom of the document.
Due Date
Here you have to select the exact date on which the license renewal or payment date or other tasks are scheduled. Upon receiving the alert, this date will be mentioned in the SMSs / e-mails.
Has Financial Impact?
Here you need to select "
Yes or No
", depending on whether the task / alert to be created will have serious financial implication if not done in time.
Email of Alert Receivers
Enter your email at which you want to receive the alerts in the advance period set by you above. You can enter multiple emails separated by comma.
SMS of Alert Receivers
Enter the mobile number at which you want to receive the alerts in the advance period set by you above. You can enter multiple mobile numbers separated by comma.
Send me SMS
Check this box if you want to receive SMS alerts.
Click "
Add
" and you will be taken to the next page, which will display the alert created, with its Group, Alert frequency, Due Date, Status, Advance Period. You will also see "Modify" option in the last column of alert from where you can modify its details.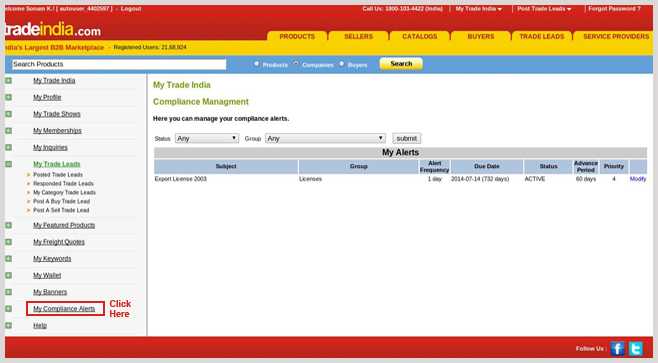 3) Status change of an Alert
Status
During the creation of alert, the status has to be kept as active. Other choices present under this option are "Work In Progress, Completed, Deleted". It is very crucial to change the status of alert once you have taken action on it.
Recommended status selections are described below:
While creating the alert / reminder, set status as "Active"
When you are in progress of executing the task, change status to "Work In Progress"
Upon accomplishment of task, change status to "Completed"
If you want to delete an alert, the change the status to "Deleted"
Why Changing of Status is Important?
Whenever an alert is created, it keeps sending SMSs / e-mails to remind you of the tasks. In case you have completed the tasks mentioned in alert, but haven't changed the status to "
Completed
", then you will keep receiving SMSs / e-mails for completing the tasks. This may cause non-required trouble to you.