Noodles
(4689 products available)
Explore More Categories
(3 products available)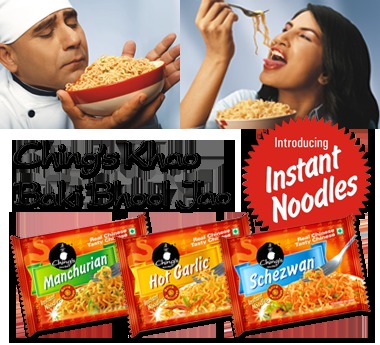 Minimum order quantity
20 Metric Ton
K J ENTERPRISES
Ahmedabad, India... More

38, Suvas Industrial Estate, Near Moraiya Railway Crossing, Moraiya, Ahmedabad, India
Types of Noodles
Who doesn't love Noodles? It is a staple food in many countries. Noodles are made from unleavened dough, which is rolled flat and then cut into various shapes. Some people like long, thin strips of noodles, while others prefer enticing cuts such as waves, strings, tubes, shells, helices or folded over. It is dried and stored for future use or can be refrigerated for short term use.
There are various types of Noodles available in the market like Black Noodles, Fried Noodles, Rice Noodles, and so forth. Most of the noodles are of Chinese variety and serve as the important part of the cuisines within China, Thai, Singapore, Tibetan, Malaysian, Vietnam, Taiwan, and Southeast Asian countries. Chinese noodles manufacturers have come up with unique taste and flavour of noodles, which is simply difficult to resist.

Instant Noodles are another popular variety of noodle. It was first made in Japan in 1958 and consumed throughout the world. Now, Instant Noodles have marked consumption of over 50 million bags throughout the world in a year. It is very convenient to prepare Noodles and have shelf life of around 9 months. Tremendous growth in the processed food industry has initiated many Noodles Suppliers and Exporters to enjoy success in India.