Lungis
(1212 products available)
Explore More Categories
(7 products available)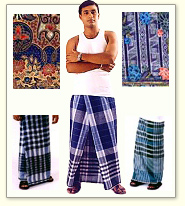 What is a lungi?
The lungi is a garment worn around the waist and the thighs. It is a rectangular cloth made of cotton or art silk or in any combination having a width of 110 cms. or above and 64 ends per inch and above. The traditional lungi originated in South India, and today it is worn by men and women alike. It is available in single colour, checks, stripes, and printed in various types of fabrics including blends. For ceremonial occasions, the lungi is available in the finest cloths with brocades and embroidery.
Popularity of Lungi
The lungi is worn by men and women alike, but used more by the male community. This garment is popular in South India in particular and India in general, Bangladesh, Sri Lanka, Myanmar (formerly Burma), Yemen, Somalia, South Africa and parts of Southern Asia.
The Use of Lungi
Depending on local tradition, lungis are tied or fastened in various ways, and can be used in different cultural activities, ranging from normal daily life to elaborate wedding ceremonies. For daily purposes, a simple double knot is the most popular, since it is least likely to slip or come undone. The lungi is one of the most comfortable garments as its length can be adjusted easily. People residing in hot and humid regions where the climate seems unpleasant for trousers, find the lungi as a comfortable garment.
History of the Origin of Lungi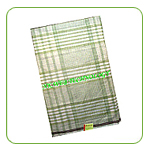 Manuscripts and other evidences point out the origin of the lungi in the present day Tamil Nadu. The lungi was earlier known as 'Veshti', a white colored garment. Historical evidences point out that the Muslin cloth of Veshti was exported to Babylonia from Tamil Nadu. Writings in Babylonian archaeological articles specify the word 'Sindu', which in Tamil means 'garment'. A sect of fishermen in Tamil Nadu called 'Baradavargal' exported lungis to East Africa, Egypt, and Mesopotamian regions. With the passage of time, the white lungi became a more refined and colorful garment with flowers and other designs printed on it. Gradually, stripes, checks in various blends of fabrics, cotton being the most popular, were made available in the market.
History of Lungi based on the Epic Mahabharata
Most of us are hardly aware of the fact of the origin of lungi rooted in the epic 'Mahabharata'. During the epical days, men wore white and other sober colored clothes, while women wore dark colors. Arjuna was an adventurous warrior who visited newer lands in search of adventure. Once he found three bright colored sarees folded neatly and placed on a rock in the river bank, hardly aware of the fact that those might be the attire of the ladies taking bath in the river. As it was dusk, he didn't notice anyone and thinking them to be abandoned clothes, he took them home.
It was evening time and his mother with her eyes closed was sitting in front of the deity offering her prayers. Arjuna interrupted asking her to see what he brought, and the mother, with her eyes still closed asked him to divide it equally among the five brothers. The dutiful and obedient Arjuna promptly cut each saree into two parts so that each gets an equal portion and distributed them among his brothers. Each of them wore the half piece of saree around their waist tying them into a knot, and this is how the lungi was invented!
Lungi in South India
In Kerala, the lungi, generally colourful, and available in varying designs, is worn by both men and women.Physical labourers use it as a working dress. A lungi in plain white, known as mundu, often bears a golden embroidery, especially in the border length, known as kasavu, which is worn on ceremonial occasions like weddings, festive occasions, etc. Saffron-coloured mundus are also known as kaavi munde. The men generally tuck up their mundus or lungis with the bottom of the garment being pulled up and tied back on to the waist. This would make the mundu or lungi only cover the body from the waist to the knees.
In Karnataka, coloured lungi is called munda whereas plain white double folded cloth similar to lungi is called a panche, which is worn during formal ceremonies. These are also used in Andhra Pradesh.
In Tamil Nadu, only men wear this garment, used in a similar fashion as that of Kerala's. It is also known as Kaili or Saaram/Chaaram in South Tamil Nadu.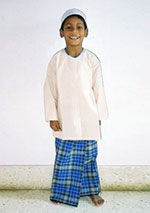 Lungi in Bangladesh
The lungi is the most commonly used garment by the men folk in Bangladesh, but not normally worn on very formal or special occasions. Elaborately-designed cotton, batik, or silk lungis are often presented as wedding gifts to the groom. Bengali women in Bangladesh do not traditionally wear lungis except non-Bengali tribal women who wear similar garments in some parts of south-eastern Bangladesh.
Lungi in Myanmar
In Myanmar, the lungi is called longyi, which is worn by men in all formal and informal occasions. Usually, only the army refers to trousers, and teenagers influenced with western ideals wear it at home. Lungi for women is called 'htamain', which is also popularly used.
Lungi in Yemen
In Yemen, the lungi is called 'ma'awiis' which is worn by males of all ages.
Types of Lungis (in Fabrics)
Printed lungis

Lungis in checks or stripes

Cotton Lungis

Polyester lungis

Contrast design lungis

Bbapta lungis

Polyester print lungis

Bbombay dyeing lungis

African taste lungis, etc.
Interesting Facts about Lungis
Male students of Trivandrum engineering college never have pajama parties; they only have lungi parties

Tiruppur in Tamil Nadu is the Paris of lungi fashion

Seventy percent of the India's lungi trade takes place at Coimbatore and Erode railway stations when trains are halted there

Foldability of the lungi is very handy for fighting villains on the street, as Mohanlal and
Mammooty and other actors have demonstrated on the silver screen

In addition to providing comfort, the lungi also acts as a ventilation factor in summer.