Poultry Feed Supplements
(2889 products available)
Explore More Categories
(72 products available)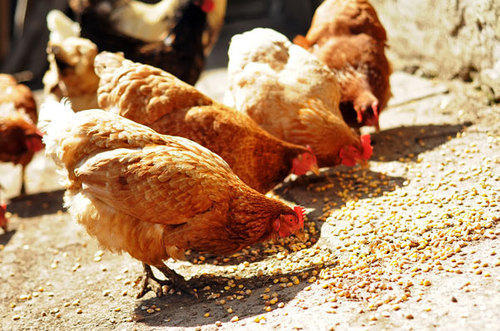 Minimum order quantity
600 Bag
Hindustan Animal Feeds
Jamnagar, India... More

B/H, Gokulnagar Octroi Check Post, Near Vijaynagar Railway Crossing, Jamnagar, India
Poultry feed is nourishment for farm poultry, which includes chickens, ducks, geese and other domestic birds. Poultry feed supplements are additives to poultry feed that improve the quality and nutrient content of the poultry feed. Healthy poultry requires an adequate quantity of nourishment in the form of proteins and carbohydrates, along with the necessary vitamins, dietary minerals, which are effectively supplied by poultry feed supplements.

Poultry Feed Supplement must be stored in a clean and dry space as contaminated feed can contaminate poultry. Damp feed leads to fungal growth. Hence, it is highly advisable to purchase from only trusted and verified poultry feed supplement manufacturers, sellers, dealers.
Some important categories of Poultry feed include Red Sorghum, Wheat Bran, Oiled Rice Bran, coconut oil cake, castor cake, maize germ, etc. Some valuable Poultry Feed Supplement categories include Mineral Mixture, Seaweed Extract Powder, L Lysine HCL, and blood meal, among others.

Trade India

India's largest B2B marketplace, Trade India brings together buyers and suppliers of Poultry feed Supplements. On this page, you will find a list of verified Poultry feed Supplements suppliers, dealers, distributors, and exporters. The Poultry feed supplement variants and products listed on this page are of optimum grade provided only by Trade India verified suppliers & manufacturers of Poultry feed supplements.