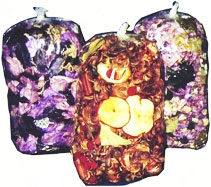 Potpourri is a natural air freshener made from the mixture of dried, naturally fragrant plant material, used to provide a gentle natural scent. Anything can be added to potpourri as long as it is dry, to ensure that the contents last longer and do not become moldy. It is usually placed in a decorative wooden bowl, or tied in small bags made from sheer fabric, etc. for creating a sense of well being and congenial atmosphere.
The word potpourri comes from the French word "pot-pourri," a French name for a Spanish stew with a wide variety of ingredients. Today, potpourri has become a term for many aromatic mixtures.
Other Definitions of Potpourri
Today the term 'potpourri' is also used to define the following:
A meal composed of different sorts of meats, vegetables, etc., cooked together.

Any mixture, especially of unrelated objects, subjects, etc.

It can mean a collection containing a variety of things

A piece of music made up of different airs strung together; a medley

A literary production composed of parts brought together having no connection.
The Beginning
The use of potpourri in the form of fragrances and botanical materials dates back to 6000 BC in Egypt evidenced from the excavated tombs

Priests of the temples of Egypt used anointing oils, incense and other fragrances for religious rituals

The Bible has a reference on the use of potpourri

Gradually all religions started using potpourri products for religious occasions

Cleopatra in the 1st century BC used fragrance extravagantly

Roman emperors had saffron sprayed from fountains

Nero of the Ist century AD had flowers showered from his state dining room ceiling and
perfume sprayed on the guests from walls

Fragrant botanicals and herbs were widely used in Europe in between the 11th and 14th century

Perfumed oils and fragrances were used in bathing rituals and as deodorants/insecticides

Gradually potpourri began to be used widely for varied applications
Traditional Potpourri

Dried flowers are natural components of traditional potpourri. Traditional potpourri containers came with closely fitted lids to enable the scent to emanate slowly and diffuse in the room. Typically traditional potpourri included natural fragrances such as wood shavings of Cedar, Cypress, incense-cedar, juniper, lavender leaves and flowers, mignonette leaves and flowers, pinyon pine cones, rose flowers, hips or oil, cinnamon bark and marjoram.
Modern Potpourri
Modern potpourri consists of any decoratively shaped dried plant material, which may not necessarily be scented plants. Strong synthetic perfumes and sometimes dyes are added to get the desired effect. The scent often bears no relation to the plant material used. Sometimes, items which do not originate from plants are mixed in with the potpourri, to give it bulk and to make it look more aesthetically pleasing. A fixative, generally, the orris root is used to get the scent absorbed when perfume is sprayed on the potpourri. Brightly colored potpourri flowers that add color rather than scent are increasingly used in home decor. Fillers are also used to make it bulky.
Common Scented Plants/Materials Used for Preparing Potpourri
Cedar wood shavings

Cypress wood shavings

Incense-cedar wood shavings

Juniper wood shavings

Lavender leaves and flowers

Mignonette leaves and flowers

Pinyon pine cones

Rose flowers, hips, or oil

Cinnamon bark

Marjoram, etc.
The best flower scents used today are rose, lavender, violet and carnations. Spices including rosemary, cinnamon, sage, thyme and nutmeg are also used. For citrus scents, the widely used material include lime, mandarin peel, lemon, dried orange and kumquat. Leaves used in the arrangement include mint, bayberry, cedar, eucalyptus, balsam and pine needles.
Fixatives in Potpourri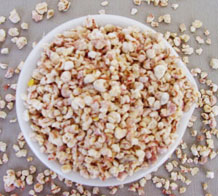 The fixative is a key ingredient in a potpourri recipe. Some of the fixatives widely used are powdered orris root, oak moss, cellulose, ground gum benzoin or fiberfix . The fixative absorbs and retains the volatile scented essences. Essential oils or fragrance oils are the other fixatives used to heighten the effect of the natural perfumes and to retain them for long. Without the use of adequate fixative, the life goes out of potpourri very quickly.
Other common fixatives used are calamus root, dry lavender, tonka bean, gum benzoin resin, deertongue, vetiver root, patchouli leavesoak moss, clary sage leaves and sandalwood bark. There are many powdered fixatives available that are generally used in sachet potpourris.
Potpourri Fillers

Another widely used ingredient in potpourri is the filler, which is used to add bulk to the arrangement. Small marbles, pine cones, beads, extra leaves, sea shells, colored wood shavings are some of the fillers used in potpourri. Cardboard cuts with gold paper covering, paper wedding confetti can help to protect the stains in potpourri and at the same time make the decoration colorful and attractive.

Potpourri Containers
Potpourri is usually placed in decorative open containers such as wooden bowls, cups or lined baskets, to enable the aroma to delicately scent the room. Often potpourri comes tied in small cloth pillows or small bags made of satin and lace or with bows and ribbons attached to them.
Varieties of Usage of Potpourri
A potpourri ceramic vase is specifically designed for holding potpourri

A traditional potpourri container is provided with a pierced fitted lid, through which the scent may slowly diffuse

Displayed in various ways, dried petals, whether scented or not, can be layered in glass containers, placed in baskets, decoupage boxes, ceramic or silver dishes

The potpourri can stay fresh for long way if it is layered over a base of floral foam, sphagnum moss or tissue paper

The moist method of making potpourri out of pickled flowers and leaves laid in beautiful designed basket gives a longer lasting perfume

Potpourri as a mixture of colorful, fragrant flowers and leaves are displayed in a glass bowl with extra fragrance

A mixture of colorful, fragrant flowers and leaves are also displayed in a poly packing to capture the essence of a summer herb garden

Net packing of the potpourri preserves the aroma for a longer period.
Use of Potpourri
A popular and meaningful gift on several occasions like weddings, birthdays, Christmas and other celebrations and functions. Most of the gift potpourri comes with refresher oil, candles, sugared fruits and scented flowers

Small packets of potpourri are kept in lingerie and sweater drawers, in the folds of clothing inside suitcases, on coat hangers in the closet, etc.

It is displayed at the party table as favors

Potpourri is also arranged in bowls or stuffed into small cotton pillows to be hung in cupboards

It is used to mask the smell of mothballs in cupboards and deterring insects

Potpourri sachets are placed in drawers or in shoes to leave a fresh scent

Loose potpourri is kept in ashtrays in cars and in the fillings of soft toys.
Making Your Own Potpourri
It is easy to make your own potpourri as per your choices and preferences. Collect all the flowers and fillers you wish to arrange and leave them to dry for a few days in a well-ventilated area. Placing absorbent paper under the mix will help absorb any moisture, but remove the paper after the first day.