Post Date : 11 June 2012
Expiry date : 11 June 2013

Description
Product name: Glutathione
Synonyms: L-Glutathione
L-Glutathione C10H17N3O6S
Molecular weight: 307.33
Assay: 99%
Melt point: 182-192C
Boil point: 336C
CAS: 70-18-8
Appearance: crystalline powder
crystalline powder water-solubility soluble

Functions and usage: GSH for radioactive rays perhaps arouse reduce white blood cell. Symptom to protective action. pharmacy, food, daily-use chemical... Appearance: colorless, transparent, odorless and viscose liquid with sweet taste; can absorb moisture.
M.P.: 18.17
B.P.: 290 (decomposed)
Relative Density: 1.261g/cm3
Refractive Index: 1.474 Flash Point: 177
Solubility: Miscible with water and ethanol; aqueous solution is neutral; soluble in ethyl acetate and ether; insoluble in benzene, chloroform, carbon tetrachloride, carbon bisulfide, petroleum ether and oils. As basic organic chemical materials widely used in pharmacy, food, daily-use chemicals, textiles, paper-making and paints industries.
Contact Information
MHC INDUSTRIAL CO. LTD.
802-2, C2 BUILDING, WANDA SQUARE #5 JINZHONG ROAD, HULI DISTRICT, Xiamen - 361000, Fujian, China

Other products posted by this company
Nickel Powder
Product : Nickel Powder Use : Widely used in electrode materials, catalysts of chemical industry ...

Molybdenum Powder
Product : Molybdenum Powder Use : Used in the products of molybdenum and molybdenum alloys, elec ...

Cobalt Powder
Product : Cobalt Powder Use : Widely used in the metallurgical products of hard alloys, diamond ...

Brass Powder
Product : Brass Powder (FCuZn) Use :Widely used in powder metallurgy products, diamond products ...

Bronze Powder
Product : Bronze Powder ( FCu 663) Use : Widely used in powder metallurgy, oil-contained bearing ...

Silver Powder
Product : Silver Powder Use : Mainly used in the contact materials of electrotechnics instrumen ...

Lead Powder
Product : Lead Powder Property : Grey powder with drop form, easy to be oxidized in the mois ...

Aluminium Powder
Product : Aluminium Powder Use : Used in diamond tools, paints and chemical reagents. Proper ...

Zinc Powder
Product : Zinc Powder Use : Used for manufacturing such products as diamond tools, paints and ch ...

Pages:

1

| 2 | 3 | 4 | 5 | 6 | 7 | 8 | 9
Related products/services from other companies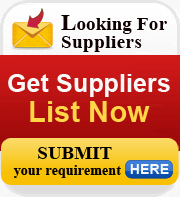 | | | |
| --- | --- | --- |
| | Popular Products | |
Post Buy Trade Lead
Tell suppliers exactly what you need
and make your product sourcing easy.

Trade Alerts
We give valued subscribers the option of receiving updates on your e-mail about new Buy and Sell leads; new listings on our directories; and new catalogs added.

Trade Alerts can be customized so that you will receive alerts on only the specific categories you have selected.
.... More
Other Sellers

(l-alanyl, l-glutamine, 39537-23-0, dipeptiven, mildronate, mildronatum, meldronatum)


(manufacturers and exporters of dextrose, fumaric acid, sorbitol, mannitol, acesulfame potassium, xyl)


(exporter, manufacturer and supplier of pharmaceutical raw material, corticosterone, pharmaceutical i)


(exporter of pharmaceutical raw material and it's intermediates )


(manufacturer of apis, potassium iodide, iodide, arbidol, butoconazole, pharmaceutical raw materials )


(distributer of medical products supplier of raw materials trader of pharmaceutical medical products )


(manufacturer of bulk drug, pharmaceutical raw materials, -amodiaquine hydrochloride, artemether, art)


(supplier and exporter of vitamins, amino acid and its derivatives, plant extracts, pharmaceutical in)


(distributer and trader of raw materials for pharma, food, feed, cosmetics )


(manufacturer of galantamine hydrobromide exporter of pharmaceutical raw material )


(manufacturer and exporter of imidacloprid, acetamiprid, methomyl, terbufos, triazophos, cypermethrin)


(manufacturer and exporter of active pharmaceutical ingredients (apis), pharmaceutical intermediates,)


(manufacturer and exporter of pharmaceutical raw material, erdosteine, aceclofenac, donepezil(aricept)


(manufacturer and exporter of raw materials, powder for injection, injections, tablets, capsules, gra)


(exporter of mefenamic acid, felbinac, loxoprofen, ketoprofen meloxicam, aceclofenac, ethenzamide, en)