Subject :
Bio Growth Promoters
Post Date : 08 January 2009
Expiry date : 15 July 2014
Description
BioSpeed is a combination of various useful living organism and other useful ingredients. Mainly...
(1) Nitrogen fixing bacterium
(2) Phosphate solubilizing bacterium
(3) Potash solubilizing and bacteria
(4) Sea Weed Extract
(5) Humic acid

Azotobacter fixes atmospheric Nitrogen for crop and produces plant growth promoting substances. Sea weed extracts and humic acids are the very good natural sources of plant growth promoting substances. It is a best product and produces plant growth promoting substances. It also increase yield.

For any further information feel free to contact us.
Contact Information
Sundaram Overseas Operation
OFFICE NO.502, SANSKRUTI APARTMENTS, NEAR AMIDHARA APARTMENTS, CITYLIGHT, Surat - 395007, Gujarat, India

Other products posted by this company
Sodium Free Salt
These Sodium Free Salt that tastes like salt [same texture, same taste, same color like common table ...

Indian Black Salt
We are manufacture of high quality Black Salt. Black salt is also known as kala namak. It is a s ...

Black Salt
Black salt is also known as kala namak. It is a special type of Indian mineral salt with a distincti ...

Soap Nuts
Soap Nuts is the only 100% natural laundry soap. Soap nuts grow on trees. Soap nuts are the dried fr ...

Industrial Salt
We are involved in offering excellent quality Industrial Salt to our most valued clients. Our offere ...

Iodized Edible Salt
We are manufacturer of high purity edible salt. We make all type of superior salts. These Iodized Ed ...

Organic Fertilizer
BioN-Plus is a Nitrogen fixing bio-fertilizer. Nitrogen is a major nutrient for all plants. Organic ...

PVC Pipe
In PVC Pipes we have standard range includes nominal sizes from 20 mm. to 560 mm. in all pressure cl ...
Related products/services from other companies

COMMUNICATION POINT
DialB2B
+91-11- 4336 4336
Get Suppliers Info via SMS/ Email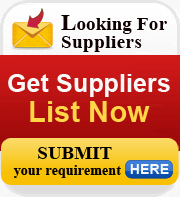 | | | |
| --- | --- | --- |
| | Popular Products | |
Post Buy Trade Lead
Tell suppliers exactly what you need
and make your product sourcing easy.

Trade Alerts
We give valued subscribers the option of receiving updates on your e-mail about new Buy and Sell leads; new listings on our directories; and new catalogs added.

Trade Alerts can be customized so that you will receive alerts on only the specific categories you have selected.
.... More
Other Sellers

(established in 1999, we are counted as one of the leading manufacturers, suppliers, exporters and tr)


(leading manufacturer and supplier of bacterial, plant growth promotor and more.)


(paclobutrazol, plant growth regulator, mango, fruits, plants, cultur, multur, lustur)


(bio fungicides, agricultural insecticide, agricultural formulation, bio chemical pesticides, bio sys)


(we are dealing in huge range of plant growth regulator chemicals, humic acid, nitric acid, nitric ac)


(we are manufacturer & supplier of growth hormones fertilizer, plant growth promoter, organic growth )