Tertiary Butyl Manufacturers
| | | | |
| --- | --- | --- | --- |
| | | Featured Companies | |
TRIVENI INTERCHEM PVT. LTD.
6-di-tertiary butyl para-cresol, 4-tertiary butyl pyrocatechol, tertiary butyl benzen, tertiary butyl benzene, tertiary butyl chloride, 2-nitrobenzaldehyde, 3-bromoanisole, 4-methyl-2-pentanone, amino resin, budesonide, calcium hypochlorite

SHREE SADGURU ENTERPRISE
2-tertiary butyl phenol, 4-di tertiary butyl phenol, methyl tertiary butyl ether, ortho tertiary butyl phenol, butyl acetate, 2 4-xylidine, 2 2 6 6-tetra methyl 4-piperidinol, para cumidine, 2-methoxy phenol, 2 4-dtbp, 2-chloro

SHIV SHAKTI TRADING CORPORATION
Exporter and manufacturer of tertiary butyl hydroquinone, butyl cellosolve, butyl hydroxy toluene, methyl iso butyl ketone, disinfectant intermediate, agro chemicals intermediate, wood preservative raw material, agro chemicals

AANCHAL CORP
Exporter of tertiary butyl hydroquinone, butylated hydroxytoluene, tertiary butylhydroquinone, butylated hydroxyanisole, butylated hydroxy anisole, edible oil antioxidant, catechol, bulk drugs, tertiary butyl

A. B. ENTERPRISES
tertiary butyl acetate, butyl phthalyl butyl glycolate, methyl tertiary butyl ether, n-butyl iodide, 6-tert-butyl-2, citric acid, tartaric acid, meleic acid, food chemicals, gms powder, sorbitol, propyl glycol, calcium

ARIHANTANAM LIFE CARE PVT. LTD.
Exporter and manufacturer of tertiary butyl benzene, tert. butyl benzene, sec. butyl benzene, tert. butyl chloride, sec butyl chloride, arteether, artemether, artesunate, quinine sulphate, quinine dihydrochloride, quinine hydrochloride,
Total Records : 47
Pages:
1
| 2
---
---
Looking for
Tertiary Butyl
Manufacturers ?
Let Tradeindia find Manufacturers for you.
| | | | |
| --- | --- | --- | --- |
| | Need any help? Did you find any contact information given above to be invalid? | | |

COMMUNICATION POINT
DialB2B
+91-11- 4336 4336
Get Suppliers Info via SMS/ Email
| | | |
| --- | --- | --- |
| | Feature Products | |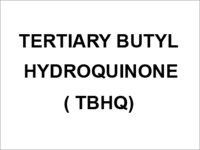 TBHQ
By: AANCHAL CORP, Mumbai