Kitchen Cutlery Handicraft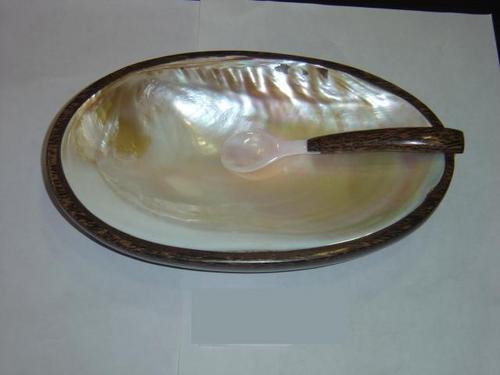 Description/ Specification of Kitchen Cutlery Handicraft
We manufacturer unique and exclusive quality kitchen/ bar accessories & cutlery items and customized products that match your specific needs.
We are backed with decades experience/ expertise in making above articles.

Normally we use Medium like :
WOOD, SHELL, ,HORN, TERRACOTTA.PALM WOOD.

We have over 3000 different style/designed items.
We make items like
SALAD SETS, SPOONS,SERVER,,BOWLS SUGER POT,
SALT PPR , CAKE CUTTER, TRAYS OF DIFFERENT SIZES,
SPECIAL GIFT SWEET BOXES,STICK
CUTLERY SETS AS PER SPECIFICATIONS AND DRAWING OF CLIENTS.

We are in excellent position to develop any new products as per buyers specifications/photo offer.
We could also send your our photo offer for you ,
Exclusive QUALITY, COMPETITIVE PRICEM, QUICK DELIVERY ASSURED..
..

Sample Availability
:
Yes
Supplier Product Code
:
2565
Competitive Advantages of the product

We make customised items like,
PHOT FRAME,JEWELLARY AND OTHER BOXES,
EXCLUSIVE FASHION JEWELRY,BOWLS,SALAD SET,
DESK-TOP ACCRS,
WOODEN COMB,WHITSLE, MANY OTHER ITEMS WITH MEDIUM LIKE,
WOOD,SHELL,HORN,PALM WOOD ETC.

Main Markets/Key Customers
:
USA/ SPAIN/ ITALY/ GERMANY
Delivery Terms

:

THROUGH BANK,T.T OR AS MUTUALLY AGREED UPON.

Delivery Lead Times

:

30 DAYS FROM CONFIRMATION.

Payment Terms

:

AS MUTUALLY AGREED UPON.

Min Quantity

:

30

Price Information

:

PRICE QUOTED ON PER 100 PCS BASIS INR
Contact Information
RAJ HANDICRAFTS
GPAL, 11/10/10, BIDHANSARANI, WORD NO- 16, UTTARPRASAD NAGAR, HAJI NAGAR, NAIHATI, 24 PGS (N), Hooghly - 743135, West Bengal, India

Other products posted by this company
Wooden Comb
We make international quality, wooden & horn combs of all specifications. Please contact us for m ...

Shell & Horn Articles
We manufacture high quality shell articles. We also make customised articles as per specifications/p ...

Comb
We manufacture international quality horn, wood combs, boxes and other accessorizes as per clients s ...

Wooden Comb
We manufacture different design of wooden comb, hair accrs, exclusive small gift boxes etc. Boxes. W ...

Wooden Box & Comb
We manufacture, develop, source exclusive quality wooden and wooden/ horn combs, hair accrs, boxes, ...

Fruit Tray
We are specialsit in developing and manufacturing unique & Innovative items. Aapart from our regular ...

Kitchen Utensils
Ee manufacture wide ranging" Kitchen Utensils"etc.as per clients specifications, we have aroud 208 ...

Horn Handicrafts
We manufacture exclusive quality of HORN and other wide range of products. These are available in va ...

Shell Articles Bowl
Our Multi-Colored Shell Articles is highly appreciated in the market for high durability, utility an ...

Wooden Stick Bowl
We are offering our clients an excellent quality range of Wooden Bowls, which are manufactured from ...

COMMUNICATION POINT
DialB2B
+91-11- 4336 4336
Get Suppliers Info via SMS/ Email
| | | |
| --- | --- | --- |
| | Popular Products | |