Therapy
Therapy is a word often used to mean treatment. It is a universal term used to describe the utilization of any medical, psychiatric, psychological or any other alternative designed to promote health and well-being. Therapy may include exercise, splinting, positioning, using compression garments, masks or learning about how to best help the body and the mind heal.

The word "therapy" comes from the Greek "therapeia" meaning "a service, an attendance" which, in turn, is related to the Greek verb "therapeuo" meaning "I wait upon." Therapy was (and is) a service done to the sick.

Various Kinds of Therapies





Adventure Therapy

Animal-assisted Therapy

Aromatherapy

Art Therapy

Authentic Movement

Chemotherapy

Cognitive Analytic Therapy

Cognitive Therapy

Coherence Therapy

Color Therapy

Counseling

Craniosacral Therapy

Dialectical Behavioral Therapy

Diversional Therapy

Dyadic Developmental Psychotherapy

Electroconvulsive Therapy

Equine-assisted Therapy

Family Therapy

Gestalt Therapy

Group Therapy

Hippotherapy

Hyperbaric Oxygen Therapy

Hypnotherapy

Immunosuppressive Therapy

Information Therapy

Interpersonal Therapy

Life Enrichment Therapy
Light Therapy

Logotherapy
Magnet Therapy

Manual Therapy

Martial Arts Therapy

Massage Therapy

Meso Therapy

Music Therapy

Occupational Therapy

Phage Therapy

Pharmacotherapy

Physical Therapy

Physiotherapy

Play Therapy

Psychotherapy

Radiation Therapy

Respiratory Therapy

Recreational Therapy

Sand Tray Therapy

Sex Therapy

Shock Therapy

Sociotherapy

Speech Therapy.
Why is Therapy Needed?
In today's world, people are leading a fast paced life. Every individual is in the rat race to earn a place for himself/herself in the society. Such is the pressure that we sometimes forget the reason of our existence. We get so entangled in our tensions, that we forget ourselves.....our soul. Therapies are generally given to people who are either physically, mentally or psychologically ill. But, in the age that we are living in, therapies have become an every day affair. Individuals go in for therapies to destress themselves, to rejuvenate and to simply relax. Many people who put in long hours at work develop back problems and cervical complications. These people go in for physiotherapy to relax themselves. spas too are a booming sector, which has developed a huge clientele all over the world. These spas offer treatments using oils, herbs, flowers, music and a variety of other products, to help people relax their mind and body. Currently, a user has plenty of therapies to choose from depending on his/her personal requirement.

Products Used in Therapies
Shortwave Diathermy 500w

Interferential Therapy Unit

Electro Trac Cer

Electro Lum Trac

C.P.M

Interferential Current Therapy Equipment

Pocket Transcutaneous Electrical Nerve Stimulator

Muscle Stimulator

Ultra Sound

Therapy Essential Oils

Perfumed Flower Candles

Potpourri

Incense Sticks

Incense Cones

Aroma Therapy Essential Oils

Therapy Vcd's

Fragrances for Bath Scent

Perfumes

Cosmetics

Aroma Chemicals

Industrial Fragrances

Herb Medicine

Blends & Oil Herbs

Aloe Vera Soap Herbal Scrub Soap

Agarbatti

Herbal Extract

Indian Attars

Corvial Ankle Traction

Computerized & Puised Laser Therapy Unit

Aroma Incense

Aroma Burners


Aroma Duffusers
Aroma Oils

Mehendi ( Henna)
Chandan Tika

Ayurvedic Cooling

Acupuncture Needle

Slow Suction

Transnerve Stimulator
Hammer
Muscle Stimulator

Slipper

Vibrator

Parallel Bar

Wax Bath

Spa Bath Therapy Massager

Cold and Hot Therapy Compress

Aerobic Rehabilitation Equipment

Lotion Applicator and Body Massager

Head Massager

Oxygen Therapy and Suction Systems

Therapy Lamp

Lavender Pillow

Massage Jade Mattress

Microwave Therapy Instruments

Static Electricity Therapy

Eyes Massager

Massage Hammer

Panchakarma.











Most Commonly Used Therapies
Aromatherapy

-

It is a form of alternative medicine that utilizes volatile liquid plant materials, which are better known as essential oils, and also scented compounds from plants with the aim of affecting the mood and health of a person. A mammoth range of materials are employed during Aroma Therapy, for example, essential oils, absolutes, phytoncides, herbal distillates or hydrosols, Infusions, carrier oils, etc.
Physiotherapy

- It is a branch of science that deals mainly with the physical aspects of an individual's healthcare, by treating his/her physical ailments. This is done by maintaining and rehabilitating the individual's physical activity or by bringing back lost activity to near normal perfection. Physiotherapy uses physical agents for the treatment of patients. These agents include:
Mechanical Energy

Heat Energy

Electrical Energy

Sound Energy

Light Energy

Electro-Magnetic Energy


Exercises & Massage

Heat Modalities

Electrical Appliances used for the treatment

Modality using sound energy

Modalities using energy in the form of light

Modality applying electro-magnetic energy
Chemotherapy-

It is a therapy most commonly used for the treatment of a few types of cancer. There are over 200 different types of cancer and over 50 chemotherapy drugs, which can be given in various ways. Sometimes chemotherapy is used to treat non-cancerous conditions but often the doses are lower and the side effects may be reduced
Music Therapy

-

It is the clinical and evidence-based use of music for the treatment of any illness or for therapeutic causes. It is the use of  music by a trained professional to achieve therapeutic goals. Music is commonly used to help professionals. Some commonly found practices include developmental work (communication, motor skills, etc.) with individuals with special needs, song writing and listening in reminiscence/orientation work with the elderly, processing and relaxation work, and rhythmic entertainment for physical rehabilitation in stroke victims
Massage Therapy-

Massage therapy is a comprehensive intervention involving a range of techniques to manipulate the soft tissues and joints of the body. The purpose of massage therapy is to prevent, develop, maintain, rehabilitate or augment physical function or relieve pain. It is a clinically-oriented health option that achieves undeniable results in the relief of an array of discomforts stemming from stress, muscular overuse and many chronic pain syndromes
Magnet Therapy-

Magnet therapy involves the use of a magnetic device placed on or near the body to relieve pain and facilitate healing. The magnetic products on the market today come in many forms. They can be taped to the skin, worn as jewelry or in shoes or slept on as pillows and mattresses. Arthritis, insomnia, carpal tunnel syndrome, and headaches are among the long list of ailments for which people have tried magnet therapy. Although no one can say how magnets work, advocates claim that they can have a profound effect on the body, particularly in relieving pain.

Market for Therapies and Related Products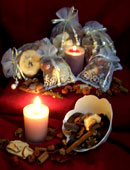 Therapies are steadily becoming a necessity for every one bitten by the competition bug. All dream of a stress free life, where exists, the now extinct peace of mind. To achieve relaxation from the daily mundane life, individuals are readily going in for therapies according to their needs and requirements. Also with rising disposable incomes, people are ready to spend on luxuries like spas for mental and physical peace. With these therapies in great vogue, the products used during the therapies are also in much demand, and are a lucrative sector to venture into.