Comprehensive directory of trade shows, trade fairs, events & exhibitions
---
Indo Defence 2016

| | | | | |
| --- | --- | --- | --- | --- |
| Show Start Date : 02 November 2016 | | Show End Date : 05 November 2016 | Frequency : Biennial | Open To : Trade Visitors And General Public |

| | | | | | |
| --- | --- | --- | --- | --- | --- |
| Venue Information : | Jakarta International Expo (JIExpo) | City : | Jakarta | Country : | Indonesia |
Event Profile
Indo Defence 2016 is Indonesia's Tri-Service Defense Event. Indo Defence 2016 to be held on 02-05 Nov 2016 at Jakarta International Expo (JIExpo), Jakarta, Indonesia. Hosted by Ministry of Defence, INDO DEFENCE 2016 Expo & Forum is recognized by the industry as the indispensable place to be, to learn, to network and to do business. You are invited to join over 20,000 delegates and trade visitors to the Indonesia's No.1 International Defence Industry event of the year.
---
Exhibitor Product profile
Profile of exhibit are Ammunition, Anti-Tank Weapons, Communication Security, Electronic Security Systems, Risk Analysis and Control, Satellite Transmission, Surveillance & Access Control, Bullet Proof Protection, Facial Protection, Protective Clothing, Detection Police Equipment, Explosive Disposal Equipment, Air Traffic Control Equipment, Airfield Equipment, Armored Vehicles, Weapon Carriers, Submarine, Submersible Systems & Equipment, Warships.
---
Visitor Profile
Visitors like Senior Government Officials, Ministries & Departments of Defence, Armed Forces Personnel, Senior Management of Defence-related Organisations, Defence Procurement Experts, Sales & Marketing Personnel, Engineers, Research & Development Specialists, Law Enforcement Agencies, Consultants, Journalists.
---
ORGANISER(S)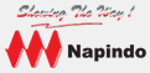 PT Napindo Media Ashatama
Address :-Jl. Kelapa Sawit XIV Blok M1 No. 10 Kompleks Billy & Moon, Pondok Kelapa Jakarta – 13450 (Indonesia)
Phone : 62-21-8644756/8644756/8644785
Fax : 62-21-8650963
Upcoming Trade Shows In Security & Protection Category
AAI - Airports and Aviation Indonesia 2016
Date :
09 November 2016 - 11 November 2016
Venue :
Jakarta Convention Center, Jakarta, Indonesia
Description :

AAI 2016 offers an unprecedented opportunity for the industry leaders to develop new business with both public and private sector decision makers that are driving Indonesia's massive airport and aviation growth. AAI - Airports and Aviation Indonesia 2016 is going to be held on 09-11 Nov 2016 at Jakarta Convention Center, Jakarta. This is the only exhibition with a dedicated focus on civil airport infrastructure and aviation support services and technologies to meet the challenges ahead, fully supported by the Directorate General of Civil Aviation, leading state owned enterprises, and trade associations.

View Details

EDIX - Educational IT Solutions 2017
Date :
17 May 2017 - 19 May 2017
Venue :
Tokyo Big Sight, Tokyo, Japan
Description :

EDIX - Educational IT Solutions Expo 2017 is Japan's largest industry trade show gathering top IT service providers, electronic manufacturers and content providers, etc., who aim to expand their business in Japanese education field. who aim to expand their business in Japanese education field. It brings together professionals and industry experts to share valuable experienced knowledge and innovative ideas to make advanced this sector in the global market.

View Details

Guangzhou International Electric Logistics Vehicles Exhibition 2016
Date :
28 December 2016 - 30 December 2016
Venue :
Pazhou Poly World Trade Expo, Guangzhou, China
Description :

Guangzhou International Electric Logistics Vehicles Exhibition 2016 will be held at Pazhou Poly World Trade Expo in Guangzhou from 28-30 December 2016. The show gives a most obvious opportunity to enhance and advancement of the business. The show additionally gives an opportunity to meet the main association individuals to add to the business correspondence.

View Details

Achema Frankfurt 2018
Date :
11 June 2018 - 15 June 2018
Venue :
Messe Frankfurt, Frankfurt, Germany
Description :

Achema Frankfurt 2018 is an International Exhibition-Congress on Chemical Engineering, Environmental Protection and Biotechnology. Achema Frankfurt 2018 to be held on 11-15 Jun 2018. The extensive lecture programme provides information on new technological developments and trends. Developers and providers as well as users and plant carriers will have opportunities to discuss focal themes and exchange ideas both during the exhibition and the events.

View Details

AidEx Brussels 2016
Date :
16 November 2016 - 17 November 2016
Venue :
Brussels Expo, Brussels, Belgium
Description :

AidEx Brussels 2016 is The Global Humanitarian and Development Aid Event. It is the only event of its kind for buyers and suppliers of humanitarian and development aid, all with one common objective – ways to improve aid delivery. The show will be held on 16-17 Nov 2016 in Brussels.

View Details

View More Security & Protection Trade Shows



Disclaimer :

The information furnished has been collected from varied sources, and hence, is subject to change. To confirm the show schedule kindly contact the show organiser.







Trade Shows where Tradeindia participated




Organisers of Trade Shows

» Subscribe Newsletter

| | |
| --- | --- |
| | Subscribe to newsletter and get updated with upcoming trade shows, trade fairs, exhibitions and trade events worldwide. |